As a skinny girl it can be hard to talk about your body insecurities, because people think you're just being stupid. The thing is – if we have body insecurities, we're all being stupid. Whether your a size 6 or a size 20.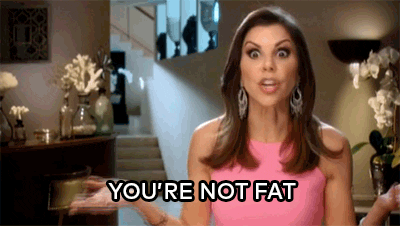 The girls I envy aren't the girls that have model bodies, they're the girls that don't give a shit what people think about their bodies. This only dawned on me lately… and here's why.
I've always been a size 10 on bottom and a size 8 on top – and weighed between 9 stone 2 and 9 stone 6. For the past six months I've been unwell and it resulted in dramatic weight loss for me – I now weigh 8 stone and I'm a size 6 / 8 on bottom and a size 6 on top. At first I thought great, I'm going to feel amazing at this size.
The reality is very different. I now feel really paranoid about how skinny my top half is and that my bottom half doesn't match up properly. I also have totally lost my boobs. Being this size has made me realise how much I loved my curves when I had them (The wave of disappointment when trying to push your boobs together and nothing happens is hard to get over in a hurry).
Basically it seems that no matter what I have, I'm not happy. And the same can be said for so many of my friends that have either put on weight or lost it.
So why then, in our 20s can we not embrace what we have an enjoy it? Why are we still looking at other women and coveting what we can never have?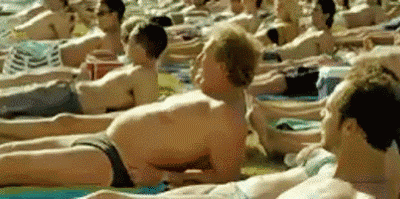 I don't have the answer. But I can say this much. Ditch your stupid diet, stop trying to be something you're not and just enjoy and love what you do have. Be healthy and be happy, because it sucks at the skinny end too.
Reasons to feel good about your body on the beach:
Whether you're a size 6 or a size 20 I guarantee you're laying on the beach looking around thinking OK I wish I had her legs or I wish I had her bum. The thing is simple maths tells us that if we're all doing that, then someone is doing that about us…
Love the good bits – I have a good tummy and good shoulders and upper chest. So I feel nice in a bikini that shows this off – am I going to buy a tankini, hell no! I'm buying something that will draw attention to the good bits. Look at the areas you like on your body and play to your strengths.
Don't sweat the small stuff – everyone has areas they're not so keen on. Stupid or not it exists so there's no point pretending otherwise. Things I hate about my body – my hips and my boobs. My hips are wide in comparison to my body and my boobs are small – making me a pear! Wonderful, the one shape nobody wants to be. What am I going to do – wear bikinis that look good on a small breasted women and pants that don't dig into my hips too much aka tie bottoms.
Tie bottoms – I'm a small girl but I still have fat on my hips. I hear it's for child birth and it's pretty dam normal. I'm guessing you do too. So why do I torment myself by getting my usual size in a bikini bottom? Who knows because the majority of retailers make them so small. If you're bigger on bottom literally just buy a size up. It removes the upset of trying them on and feeling like a fat waff when they dig in like crazy.
Embrace body confidence. Try on your bikini pre holiday and take pictures of yourself. These pictures are for you. When you're laid on the beach feeling like a whale next to little miss perfect – who, for your info, actually hates her legs or boobs or whatever it is she feels insecure about – look at your pics and remember you think you look good.
Try and try again. There's this little thing called the one. It's the bikini that works for your body. Some people ace a tankini, others look amazing in a balconette. Work out what works for you then ignore the rest and buy it in every shade, pattern or colour possible.
🙂
P.s. major shout out to the lovely blogger gals from Bee Chat that gave me the confidence to post these pics…
Follow them here: @VivWrites, @Amiehayward, @blogabtnothing1 and @effisummers.